Monday December 11, 2023
Finances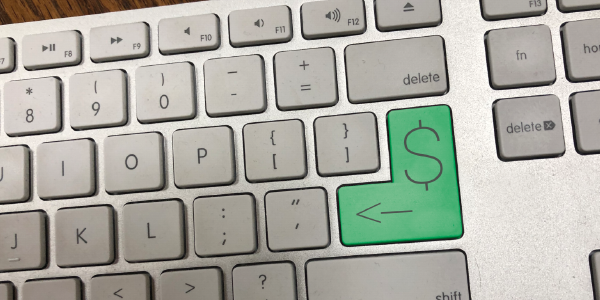 HP Reports Results
HP, Inc. (HPQ) released its third quarter earnings report on Tuesday, August 29. The technology company reported a decrease in both quarterly revenue and income, causing its stock to fall more than 6% following the release of the report.

HP reported quarterly revenue of $13.2 billion. This was down almost 10% from revenue of $14.6 billion during the same quarter last year and below analysts' expectations of $13.4 billion.

"We delivered a solid quarter of sequential growth, combining strong innovation with disciplined execution to gain profitable PC market share and achieve our non-GAAP EPS target," said HP CEO, Enrique Lores. "We remain confident in our ability to drive long-term growth and value creation as we focus on the things we can control and make continued progress against our Future Ready plan."

The company announced net income of $766 million or $0.76 per adjusted share for the quarter. This was down from $1.1 billion or $1.08 per adjusted share during the third quarter last year.

HP's Consumer Personal Systems (PS) segment saw a 12% decrease in revenue to $2.7 billion, while Commercial PS sales experienced an 11% decline to $6.2 billion. Consumer Printing revenue also fell 28% to $521 million and Commercial Printing had a 6% decrease to $974 million. Earlier in the year, HP announced a partnership with Omni-Pac Group to digitize the process in which molded fiber packaging is produced while utilizing HP's Molded Fiber Tooling Solution. HP raised its guidance for fiscal 2023 and expects earnings between $2.95 and $3.07 per adjusted share.

HP, Inc. (HPQ) shares closed at $30.37, down 2% for the week.


Big Lots Posts Quarterly Report

Big Lots, Inc. (BIG) posted its quarterly earnings report for the second quarter on Tuesday, August 29. The discount retailer surpassed analysts' expectations for quarterly revenue, causing the company's stock to soar over 26% following the release.

The company reported revenue of $1.14 billion, down more than 15% from $1.35 billion in revenue at this time last year. However, this exceeded analysts' expected revenue of $1.1 billion for the quarter.

"Our results for Q2 illustrate that we remain in a very challenging environment, in which our core lower-income customer remains under significant pressure and has limited capacity for higher-ticket discretionary purchases," said Big Lots CEO, Bruce Thorn. "However, we did see some sequential improvement in the quarter, and were pleased to come in ahead of or in line with our guidance on all key metrics."

Big Lots posted a net loss for the quarter of $249.84 million or $3.24 per adjusted share. During the same quarter last year, the company reported a net loss of $84.15 million or $2.91 per adjusted share.

The Columbus, Ohio-based furniture and home decor retailer reported comparable sales decreased 14.6%, better than analysts' expectations of an 18.1% decrease. The company also reported a 15.2% decrease in inventory during the quarter, attributed to lower in-transit inventory, on-hand units and average unit cost. Big Lots announced the sale and leaseback of its Apple Valley distribution center and 22 owned stores, which generated $300 million in gross proceeds. For the 2023 outlook, the company expects comparable sales for the third quarter of 2023 to be modestly improved compared to the second quarter.

Big Lots, Inc. (BIG) shares ended the week at $6.40, up 3.9% for the week.


Chewy Announces Earnings

Chewy, Inc. (CHWY) released its second quarter earnings report on Wednesday, August 30. Despite reporting increased quarterly revenue, the online pet supply company's stock fell 11% following release of the report.

The company reported net sales of $2.78 billion for the quarter. This was up 14.3% from $2.43 billion in the same quarter last year and exceeded analysts' expectations of $2.76 billion.

"We delivered solid results in Q2 across both topline and profitability, with 14% growth exceeding guidance," said Chewy CEO, Sumit Singh. "Chewy once again gained share as our customers recognize the power of our personalized Autoship service, best-in-class healthcare experience, and overall value proposition as key differentiators, resulting in robust ordering behavior, which in turn is driving our strong performance."

The company reported net income of $18.95 million this quarter or $0.04 per adjusted share. This was a decrease from net income of $22.35 million or $0.05 per adjusted share during the same time last year.

Chewy reported 20.4 million active customers in the quarter, relatively unchanged compared to this time last year. The company's net sales per active customer increased to $530, an almost 15% increase in the quarter. Chewy's Autoship subscription program, which allows customers to automatically reorder and deliver products, increased sales by more than 18% to $2.09 billion for the second quarter. Chewy announced it is on track to begin expansion into international markets in Canada beginning in the third quarter. For the third quarter of fiscal 2023, Chewy expects 8% to 9% growth in net sales ranging between $2.74 billion and $2.76 billion.

Chewy, Inc. (CHWY) shares ended the week at $24.67, down 5% for the week.

The Dow started the week of 8/28 at 34,442 and closed at 34,838 on 9/1. The S&P 500 started the week at 4,426 and closed at 4,516. The NASDAQ started the week at 13,695 and closed at 14,032.

Treasury Yields Vary
U.S. Treasury Yields were lower earlier in the week as markets reacted to the latest consumer spending data. Yields rose at the end of the week as the recent jobs numbers revealed higher unemployment rates.

On Thursday, the Commerce Department announced that the Personal Consumption Expenditure (PCE), which measures the cost of goods and services purchased by U.S. households, rose 0.2% in July, matching economists' expectations. Core PCE, which excludes food and energy, saw an annual increase of 4.2%.

"For the [Fed], the best news from this release was the relatively large decline in the price index for goods even as goods consumption remained strong," said Chief Economist with Raymond James, Eugenio Alemán. "On the flip side, consumption of services and the price paid for services, will remain the biggest concern for Fed policymakers."

The benchmark 10-year Treasury note yield opened the week of August 28 at 4.23% and traded as low as 4.07% on Thursday. The 30-year Treasury bond opened the week at 4.29% and traded as low as 4.18% on Thursday.

On Thursday, the U.S. Department of Labor reported that initial claims for unemployment decreased by 4,000 to 228,000 for the week ended August 26. Continuing unemployment claims increased 28,000 to 1.73 million. On Friday, the Jobs report was released indicating the unemployment rate unexpectedly increased to 3.8% for August, from 3.5% for July. Nonfarm jobs, seasonally adjusted, increased 187,000 for August, coming higher than the 170,000 economists expected.

"While signs of looser labor markets are emerging, the jobless claims data are a reminder that the cooling in labor market conditions is being accompanied by very few layoffs," said Lead U.S. Economist at Oxford Economics, Nancy Vanden Houten.

The 10-year Treasury note yield finished the week of 8/28 at 4.19%, while the 30-year Treasury note yield finished the week at 4.30%.

30-Year Mortgage Rates Begin to Drop
Freddie Mac released its latest Primary Mortgage Market Survey on Thursday, August 31. The survey showed the 30-year fixed rate mortgage start to decline after five consecutive weeks of increases but remains over 7%.

This week, the 30-year fixed rate mortgage averaged 7.18%, down from last week's average of 7.23%. Last year at this time, the 30-year fixed rate mortgage averaged 5.66%.

The 15-year fixed rate mortgage averaged 6.55% this week, unchanged from last week. During the same week last year, the 15-year fixed rate mortgage averaged 4.98%.

"Mortgage rates leveled off this week but remain elevated. Despite continued high rates, low inventory is keeping house prices steady," said Freddie Mac's Chief Economist, Sam Khater. "Recent volatility makes it difficult to forecast where rates will go next, but we should have a better gauge in September as the Federal Reserve determines their next steps regarding interest rate hikes."

Based on published national averages, the savings rate was 0.43% as of 8/21. The one-year CD averaged 1.76%.

Editor's Note: The publicly available financial information is offered as a helpful and informative service to our friends. This article is not an endorsement of any company, product or service.
Published September 1, 2023
Previous Articles
DICK'S Sporting Goods Announces Earnings